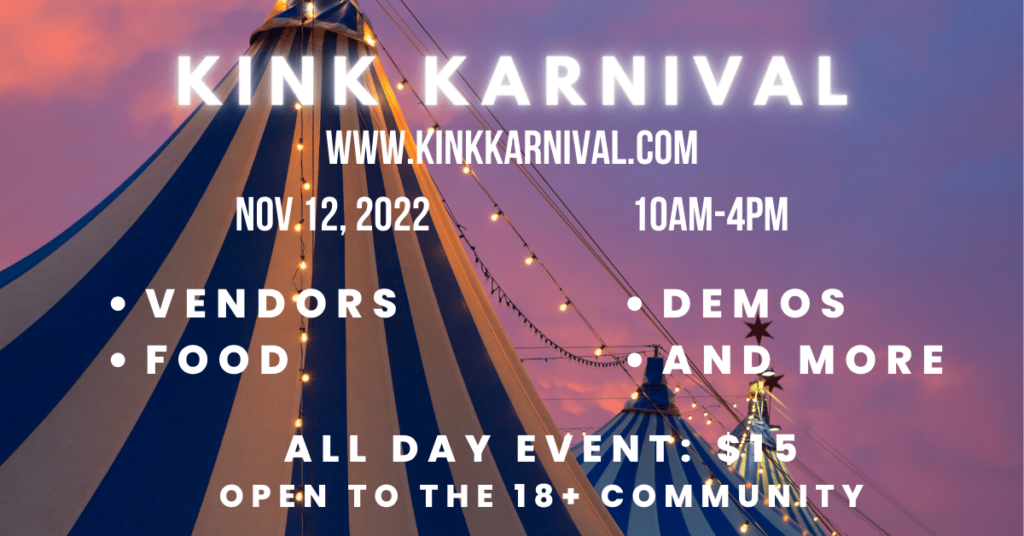 We are so excited to have NEW vendors at Kink Karnival! We are expecting 26 toy and furniture vendors, PLUS 4 service vendors, not to mention the NCSF and The Sisters of Perpetual Indulgence!
Service Vendors:
BoiBear – Bootblack: Wear your boots and get comfy in Bear's chair! It is an experience NOT to be missed!
Mystical Stables: Providing a pet corral for your human pets to play and human pony and other assorted human-pet-pulled cart rides!
Spectrum Medical: Providing onsite HIV testing in addition to home STI testing kits that we can mail to you after the event, free condoms and lube, promotional items, and will also have information about our clinic if anyone is interested in establishing care with us for Primary Care, PrEP/PEP care, or HIV care.
Terros Health: Providing Hep C testing, HIV testing, Covid vaccine, flu vaccine, Narcan, fentanyl test strips, male and female condoms, lube, STI information and branded swag.
---
Community Groups:
National Coalition for Sexual Freedom: The NCSF advances the rights and advocates for consenting adults in the SM-Leather-Fetish, swing, and polyamory communities.
---
Grand Canyon Sisters of Perpetual Indulgence(GCSPI): has the vision to unite, elevate, and empower the Gay, Lesbian, Bisexual and Transgender (GLBT) community throughout Arizona. Our primary role and pledge is cooperative support of every facet of the GLBT community through fundraising, entertainment and education throughout Arizona.
Once again, GCSPI will be back to help us sell raffle tickets and raise money for the Arizona Power Exchange so we can keep doing the great work we are doing!
---
Blood Bay Bags
Breathe Toys
Calamity Canes
CK Under Ground
Compass Rose Creations
Faelyn Fox
House Of Wolfram
Kink and Pain, LLC
Knotty Kreations
Kricket's Klubhouse
Kyla's Keepsakes
Latex Co.
MB Leather
Morning Star's Vault
Nadia Vanilla
Phoenix 42 Creations
Pocket Snakes
Reverence
Rosie's Little Treasures
Rusted Dragon
SadoMasoCraft
Sassy Crafts
Spooky Little Dreams
The Kink Factory
Warhorse Workshop
Yoga for Kink
For details and contact info, click here!