Welcome back to Rusted Dragon Forge!
Rusted Dragon Forge is a Kinky Blacksmith that does Custom Metalwork, from Sharp and Shiny to Dark and Twisted. We're so excited to have them back for the 2014 Bizarre Bazaar!
Coming to the auction: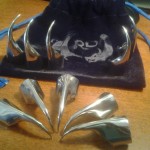 One set of 10 shiny stainless claws, including immediate delivery and custom  fitting.  But, more to the point, a rare opportunity to have your claws right now, skipping  ahead of the months-long waiting list.  The retail value is $150, but I imagine that some impatient soul (perhaps even one who is already on said waiting list!) would pay at least a little more than that for the line skipping privilege, all in the name of supporting our beloved club.  As an added bonus, this prize includes a Rusted Dragon velvet bag in which to store/carry your new, precious shinies.
View all of our Vendors on the Vendor page. Vendors are being added daily as they confirm.